m

 

(10 intermediate revisions by 2 users not shown)
Line 1:
Line 1:
 

{{Character

 

{{Character

−

|name= Ryuuji

+

|name= Ryuuji

−

|image= File:Ryuuji.png

+

|image= File:Ryuuji.png

 

|kanji=

 

|kanji=

 

|romaji=

 

|romaji=

 

|birthday=

 

|birthday=

 

|age=

 

|age=

−

|height=

+

|height=

−

|weight=

+

|weight=

 

|hair=

 

|hair=

 

|eye=

 

|eye=

Line 13:
Line 13:
 

|family=

 

|family=

 

|occupation= Student

 

|occupation= Student

−

|affiliation= [[Kanazawakita High School]]

+

|affiliation= [[ High School]]

−

|debut= [[Chapter 80]]

+

|debut= [[Chapter 80]]

 
+

|vactor=

−

|image gallery= }}

 
 
+

|gallery= Yes }}'''Yonemura Ryuuji''' is a student from [[Kanazawa Kita High School]] and a member of its sumo club.

−

'''Ryuuji'''

 
 
 
 

==Appearance==

 

==Appearance==

 
+

[[File:Yonemura_Ryuuji_Full.png|thumb|left|140px|Yonemura's full appearance.]] Yonemura is a large,light skinned man with black,curly hair reminiscent of a fro. He has a creased forehead, squinty black eyes and thin eyebrows. He wears Kanazawa Kita Sumo Club's standard mawashi belt which is beige in color with the exception of a single light green stripe on the left side near the front.

 
 
 

==Personality==

 

==Personality==

Line 31:
Line 32:
 
 
 

==Trivia==

 

==Trivia==

−
 
−

==Quotes==

 
 
 
 

==References==

 

==References==

 

<references/>

 

<references/>

 

[[Category:Males]]

 

[[Category:Males]]

−

[[Category:Kanazawakita High School]]

+

[[Category:Kanazawakita High School]]

−

[[Category:Sumo Wrestlers]]

+

[[Category:Sumo Wrestlers]]

 
+

[[Category:Characters]]
---
Latest revision as of 01:55, 17 March 2019
Yonemura Ryuuji is a student from Kanazawa Kita High School and a member of its sumo club.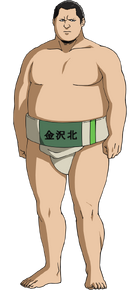 Yonemura is a large,light skinned man with black,curly hair reminiscent of a fro. He has a creased forehead, squinty black eyes and thin eyebrows. He wears Kanazawa Kita Sumo Club's standard mawashi belt which is beige in color with the exception of a single light green stripe on the left side near the front.
Community content is available under
CC-BY-SA
unless otherwise noted.