Yomoda Jin
Information
Japanese Name
四方田 尽
Rōmaji Name
'
Epithet
Shikona
Birthday
Age
Gender
Male
Height
184cm
Weight
165kg
Hair Color
Black
Eye Color
Family
Occupation
Sumo Wrestler
Student (formerly)
Affiliation
Asahigawa Stable
Eigadai Affiliated High School (formerly)
Manga Debut
Chapter 98
Voice Actor
Image Gallery
Yomoda Jin is a student from Eigadai Affiliated High School and a member of its sumo club.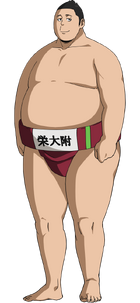 Jin is a large man with white skin and black hair that is styled in the form of a spike. He has black eyes and is quite bulky. His mawashi belt is red in color with the exception of a light green stripe towards the center left. When not participating in bouts he is seen wearing his team's red jacket.
He has skills on par with a yokozuna. However, due to him never winning a bout in team competitions, but often placing in top 4 in individual competition, he has never gained a moniker. He over relies on his strength, especially his core strength to lift opponents.He also takes much more damage than he needs against Gojo Yuma.
Community content is available under
CC-BY-SA
unless otherwise noted.