Sawai Rion is a student from Eigadai Affiliated High School and a member of its sumo club.
Appearance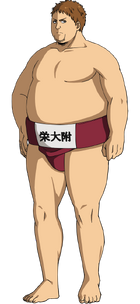 Sawai is a large,round man with brown hair and eyes. He also has a light, brown beard that only covers the bottom part of his chin. Sawai wears the Eigadai Sumo Club's mawashi belt which is red in color.
Personality
Abilities
History
Synopsis
Major Battles
Trivia
Accroding to episode 21, Rion's nickname, which he despises, is Leo. The nickname is given to him by Daniel Stefanov
References
Community content is available under
CC-BY-SA
unless otherwise noted.