Sawai Rion is a student from Eigadai Affiliated High School and a member of its sumo club.
AppearanceEdit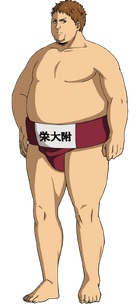 Sawai is a large,round man with brown hair and eyes. He also has a light, brown beard that only covers the bottom part of his chin. Sawai wears the Eigadai Sumo Club's mawashi belt which is red in color.
PersonalityEdit
AbilitiesEdit
Like the rest of the team, he is big and strong, so he can railroad weaker opponents. He also like to trash-talk pre-bouts, which Stefanov doesn't like because he is a nice person outside the ring.
Major BattlesEdit
According to episode 21, Rion's nickname, which he despises, is Leon. The nickname is given to him by Daniel Stefanov
ReferencesEdit