Saenoyama Norihiro
Information
Japanese Name
冴ノ山 紀洋(さえのやま のりひろ)
Rōmaji Name
Saenoyama Norihiro
Epithet
Shikona
Birthday
August 7th
Age
26 (Post Timeskip)
23 (Pre Timeskip)
Gender
Male
Height
191cm
Weight
149kg
Hair Color
Eye Color
Family
Hori Chizuko (girlfriend)
Occupation
Sumo Wrestler
Affiliation
Shibakiyama Stable
Manga Debut
Chapter 42, Episode 6
Voice Actor
Shingaki Tarusuke (Anime Japanese)
J. Michael Tatum (Anime English)
Image Gallery
Saenoyama Norihiro (冴ノ山 紀洋, Saenoyama Norihiro?), born Hasegawa Norihiro, is a member of the Shibakiyama Stable.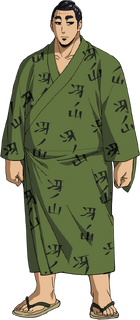 Saenoyama is an extremely tall man easily towering over Ushio. He has long, black hair which, is kept tied up in a traditional knot. He is light skinned and is quite muscular.
He has a very powerful downward open hand punch and flexible legs. In the second sparring match against Hinomaru, he barely won against him after it was judge that his knee went down after Hinomaru's hand was was down.
After graduating middle school alongside Tsuda Hiroki they joined the Shibakiyama Stable to become professional sumo wrestlers.[1]
Saenoyama Norihiro vs Ushio Hinomaru
Saenoyama Norihiro vs Ushio Hinomaru
Saenoyama Norihiro vs Ushio Hinomaru
His blood type is A.
He enjoys billiards and baseball.
He adopts the Bruce Lee philosophy of 'water-like zen'. Which is a huge contrast to Ushiro's fiery temperament and fighting style.
Community content is available under
CC-BY-SA
unless otherwise noted.