Kanou Akihira
Information
Japanese Name
加納 彰平
Rōmaji Name
'
Epithet
Ookanehira (大包平)
Shikona
Ookanehira (大包平)
Birthday
December 15th
Age
20
Gender
Male
Height
189cm
Weight
114kg
Hair Color
Blonde
Eye Color
Family
Father
Occupation
Sumo Wrestler
Student (formerly)
Affiliation
Asahigawa Stable
Eigadai University (formerly)
Tottori Hakurou High School (formerly)
Manga Debut
Chapter 115
Voice Actor
Kanou Akihira
is a student from
Tottori Hakurou High School
and a member of its sumo club.
Appearance
Edit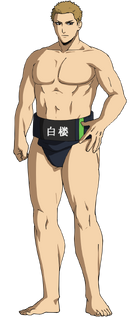 Kanou is a tall muscular young man with black eyes. He has straightened blonde hair and generally expresses a focused expression. He sports Tottori Hakurou Sumo Club's typical mawashi belt which is dark blue in color with a single light green stripe on the left side.
Personality
Edit
Despite his seemingly dismissive attitude towards sumo, and never talks about himself at interviews, he hates losing more than anybody. Given that he has witnessed so many promising sumo wrestlers' careers end in disappointment despite years of hard work, including that of his own father, who never became a yokozuna as a professional, and him never surpassing Tennoji.
He also harbors a great deal of resentment over being treated always as second-best, or not acknowledged as a National Treasure and possible tournament winner, especially by Tennouji and Jin'ou, which leads to incredibly dangerous, reckless behavior.
Abilities
Edit
He is a counter-attacking wrestler. Using a half-stance that can grab loincloths with one hand while staying high enough to feint charges, and gives him extra room to throw. But it leave his chest exposed for quick strikes, which Kunisaki and Hikage Tenma exploits using their Flash Strikes.
Major Battles
Edit
Kanou Akihira vs. Kunisaki Chihiro
He enjoys swimming and cooking.
When he loses, he fries a large batch of karaage (double-fried chicken) . He enjoys trying out new flavors, but he hates it when people steal one of his pieces before frying it for the second time. Even Jin'ou himself can't resist the temptation, which leads to a comical reaction.
He uses soft contact lenses while fighting, but reverts to glasses outside the ring.
References
Edit